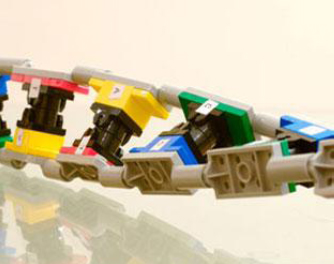 What:  Another tRNA LEGO kit building night!
When:  Wednesday, April 20, 2011 @ 6:30 – 9:00 pm
Where:  MIT 2-131 (located in the Math Department, near the jungle mural)

Please RSVP by e-mailing:  kathymv <at> mit <dot> edu
Kathy Vandiver, Director of the Community Outreach and Education Core (COEC) at the MIT Center for Environmental Health Sciences, is seeking volunteers to help prepare additional LEGO tRNA kits!
These kits are part of a MIT pilot project with the Boston Public Schools Science Department.
In total, the LEGO DNA project for the Boston Public Schools is estimated to require 1220 volunteer construction hours!   The project is now in its home stretch, having already surpassed the 1100-hour mark!
Please lend a helping hand to bring the project to its completion by spending an evening working with Kathy on April  20th.  You will be constructing LEGO tRNA anticodons and applying some Krazy glue to keep the molecules intact as the last step.
Thank you for your help!